Discover more from Chasing Nature
Dispatches on wildlife, wild places and the human condition.
Over 4,000 subscribers
1.8 Billion Years of the Sublime (in Three Minutes of Reading)
An Insect's Monument to the Grand Canyon
ITS ANCIENT ROCK turns superlatives to dust. Its enormity and beauty render adjectives feeble. As a writer, I am helpless: the Grand Canyon is a place where my words fall to their death.
So I offer you instead an insect called a caddisfly. 
We met in a creek during one of my hikes below the South Rim. As airborne adults, caddisflies resemble undistinguished moths with wiry antenna. But before they mature and sprout wings, caddisflies as larvae are skilled woodworkers and stone masons. They assemble shelters made from sticks and stones, and crawl around underwater shrouded in their homemade log cabins or masonry sleeping bags.
My caddisfly was one of the stone workers. Good thing. There may be no better place on earth to find stone than in the Grand Canyon. Stacked in three dozen layers, the canyon's rock formations enshrine some of the most monumental events in earth's history. 
And yet the Grand Canyon itself is falling apart. 
As the Colorado River cuts through the oldest layer a mile below the rim, the canyon's walls crumble. Summer's torrential rains send stone tumbling toward and into the river. In winter, water trapped in cracks freezes, expands and pries away slabs that shear off even more rock on the way down. 
Erosion like this is what has made the Grand Canyon so wide and big and beautiful. For millions of years its pace has been slow, relentless, inevitable. And there can be no putting the rock back together again.
Except for the caddisfly.
In this one insect's stone hut I find rock samples gathered from across the eons: A speck of Zoroaster Granite — 1.8 billion years old. A grain of Tapeats Sandstone — 545 million years old. A slice of Hermit Shale — 280 million years old. 
The temporary quarters of this one caddisfly, which will go on to live and fly as an adult for only a week or two, spans epic events in earth's history marked in stone: the collisions of continents, blasts from volcanoes, the advance of a desert, the rise and retreat of oceans, and three mass extinctions. 
We ourselves cannot know these cataclysms, not in the same way we might know spring migration or an alpine meadow in bloom. The closest we can get to the action, to the past and present and future of the Grand Canyon, to the birth and breathing and fate of its rock, is written in the geology left behind for us in layers as canyon walls. 
Erosion makes the canyon. It creates void and beauty. And no phrase or photograph of mine can bring the scale and magnificence of the Grand Canyon to life for you. So instead I bring you an insect.
In its lonely deed, the caddisfly unwittingly puts a tiny portion of the Grand Canyon back together again. It creates a monument to a canyon, made of the canyon — a monument to the sublime. And a monument that I can hold in the palm of my hand.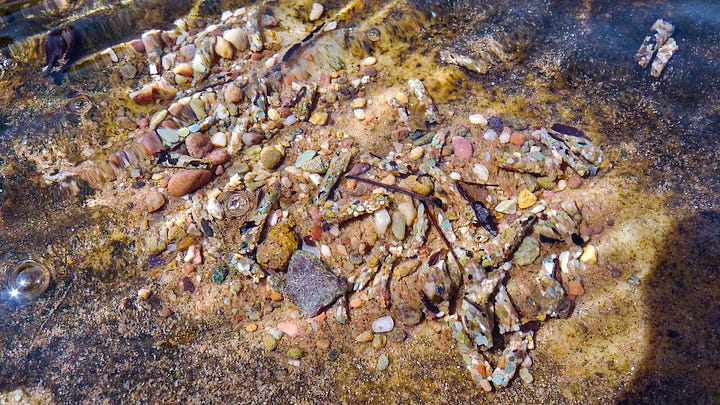 ---
Chasing Nature can't happen without its readers, especially our corps of paying subscribers (who get perks). If you're not yet among us, please subscribe or consider an upgrade to paid. Thanks!
---
Next Up for Paying Subscribers
How about if you tell me what's next? Beyond the paywall, I'll be offering paying subscribers video lectures on everything from photography to sparrow identification, after each of which we'll run online chats for questions.
But this past week's wonderful rush of new subscribers has me tapping the brakes and wanting to get to know you. So on Sunday I'll start my first Substack chat so that you can tell me what wild things you'd like to learn or discuss. Most anything will be fair game.
Founding members will get their first AMA (Ask Me Anything) next month.
Watch for the chat opportunity (which can stay open during the coming week) in a separate dispatch. I'm hoping that you'll be able contribute ideas in the post's comments option on the web or in the Substack app's specialized chat feature.
Onward!