Discover more from Chasing Nature
Dispatches on wildlife, wild places and the human condition.
Over 4,000 subscribers
The Week in Pink Things
Until my next essay, about love, I bring you an interlude of moths and orchids.
DURING A JOURNEY to the woods and bogs of northern Vermont this week I made the acquaintance of pink: soft pink and hot pink, salmon pink and rose pink.
I went to the woods in search of a rare orange butterfly, and to bogs for an even rarer blue damselfly. No matter that I did not find them. During "Pink Season" here in the north I found refuge among moths and orchids.
And until I complete for you an essay, now in the works, about the nature of love and the love of nature, I offer you instead a gallery of those varied hues of rose. It begins above with Rosy Maple Moth (Dryocampa rubicunda), which now flies by night near most people living in the eastern United States. And trust me on this moth: that's no combover, no matter how variable Rosy Maple Moth might appear. Here's more of its variety coming to my moth light and sheet.
Next, below, a trio of orchids: Tuberous Grass-Pink (Calopogon tuberosa), Pink Lady's Slipper (Cypripedium acaule) and Dragon's Mouth (Arethusa bulbosa). (Okay, I lied: I did not actually encounter Dragon's Mouth orchid this past week, but it is indeed flowering here in the north.)
Below the orchids is another installment in our Substack field trip for Twinflower (Linnaea borealis), one of the most elegant plants in the woods. I came upon that patch, newly in bloom with a few flowers still in bud, while bushwhacking on the Summer Solstice. I could indeed spend the year's longest day in the good company of Twinflower.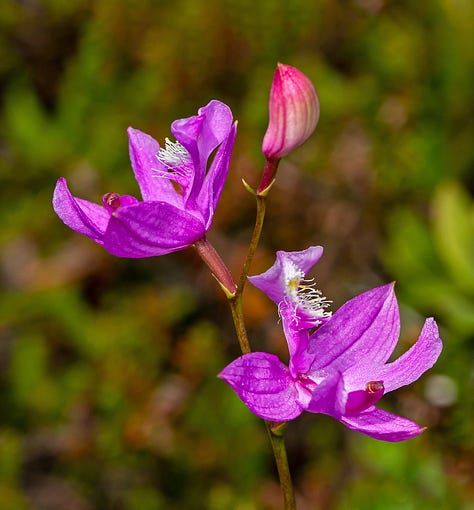 Our online Twinflower Field Outing is going strong, with readers submitting their images to an open Substack Chat. Shout-out to
at
. Susannah found Twinflower near home and has been drawing and exploring and wondering in her journal. Also on the chat you'll find
's amazing paper Twinflowers. Ling's new Substack is
.
Finally, more hues of pink showing in three additional moth species. First, side-by-side, are the intricate Pink-sided Fern Moth (Callopistria mollissima) and the aptly named Wavy Chestnut Y Moth (Autographa mappa). Below that ornate pair we wrap up with pink at the leading forewing edge of a Luna Moth (Actias luna) at my encampment in Ferdinand, Vermont. And as you'll see, in some Lunas those hindwing eye spots show pink as well.
---
Writing worth reading takes time and talent. If you like what you're finding here on Chasing Nature, please consider upgrading to a paying subscription so that I can keep writing and shooting photos for everyone. Thanks!